Franchise Opportunities – ACT
New Franchise Territories with Income Guarantee are still available in ACT
Hire A Hubby has a number of new franchises with Income Guarantee available for purchase throughout ACT.
Territories Available:
Canberra Northern districts
Canberra Southern districts
To find out more about a new franchise opportunity, please call 1300 653 778, or complete the online contact us form.
TAKE THE SKILLS TEST
Take our Hubby Skills Test to see if you have what it takes to become a successful Hubby and run your own franchise business! If you score 12 or more, it's time we met with you to give you the full Skills Assessment Form!

HUBBY FAQ
Hire A Hubby has options to suit how you want to run your business and how to handle a growing business. A typical franchisee starts their journey as what we call "Man In A Van"

PROUD FCA MEMBER
We're proud to announce our CEO Brendan Green has been accredited as a Certified Franchise Executive (CFE) with the Franchise Council of Australia.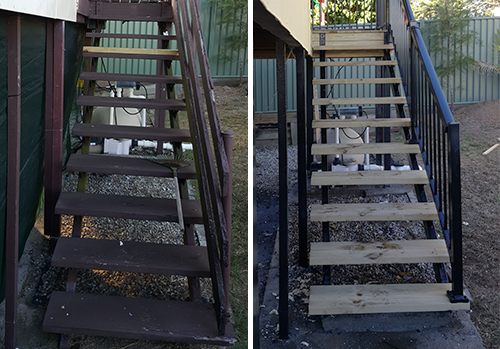 Featured - 18 Jun 2021
Stair and Handrail Replacement
Hire A Hubby Forest Lake recently restored the safety of this stairway with the replacement of rotten timber and unsafe handrails. Ensure…
READ MORE