Franchise Opportunities – QLD
New Franchise Territories with Income Guarantee are still available in QLD.
Hire A Hubby has a number of new franchises with Income Guarantee available for purchase throughout Queensland.
Brisbane Metro Territories Available: 51

QLD – Major regional and country territories are available, including, but not limited to the following areas:
Cairns
Gladstone
Gold Coast
Gympie
Hervey Bay
Mackay
Mt Isa
Proserpine
Rockhampton
Sunshine Coast
Toowoomba
Townsville
Warwick
Yeppoon
To find out more about a new franchise opportunity, please call 1300 653 778, or complete the online contact us form.
Going Concern Businesses for Sale
Hire A Hubby The Gap
Hire A Hubby The Gap presents a great opportunity to become a franchisee in an affluent inner north western suburb of Brisbane, just 10km from the city. The demographic profile reflects a strong family area encompassing a number of prestigious residential properties along with a high percentile of 'white collar' workers residing in the area. 
The Gap has been operated by the current franchisees since 2016. This Hire A Hubby business has exceeded the expectations of the current franchisee and is being offered to the market as a 'going concern' with a large database of repeat customers. The business has 2 staff; a licensed carpenter and 4th year apprentice. The incoming franchisee will have the flexibility to decide how much time they want to spend "working on the tools" and "working on the business".
The franchisee will provide a full business handover, providing introductions to key customers and suppliers.
The purchaser will also benefit from the award winning support of the Hire A Hubby head office team, along with support from the surrounding franchisees.
To find out more about a new franchise opportunity, please call 1300 653 778, or complete the online contact us form.
TAKE THE SKILLS TEST
Take our Hubby Skills Test to see if you have what it takes to become a successful Hubby and run your own franchise business! If you score 12 or more, it's time we met with you to give you the full Skills Assessment Form!

HUBBY FAQ
Hire A Hubby has options to suit how you want to run your business and how to handle a growing business. A typical franchisee starts their journey as what we call "Man In A Van"

PROUD FCA MEMBER
We're proud to announce our CEO Brendan Green has been accredited as a Certified Franchise Executive (CFE) with the Franchise Council of Australia.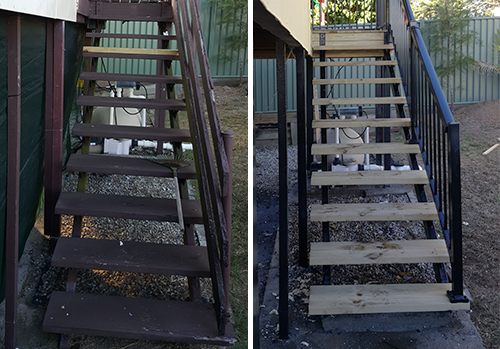 Featured - 18 Jun 2021
Stair and Handrail Replacement
Hire A Hubby Forest Lake recently restored the safety of this stairway with the replacement of rotten timber and unsafe handrails. Ensure…
READ MORE