In one of our Friday afternoons secretly scouring the web for inspirational home decor images and blogs, we came across a pretty decent article on Houzz: "10 Things to Ask Your Contractor Before You Start Your Project" and it got us thinking, starting a project on your house brings a mixture of emotions from excitement, to nerves to frustration, to relief, to sheer bliss!
Dependent on the state of your house when you begin, this project might be an aesthetic decision where you just want a little touch up on the paint or a change in colour scheme or your house might be a full on money pit where you need some serious help…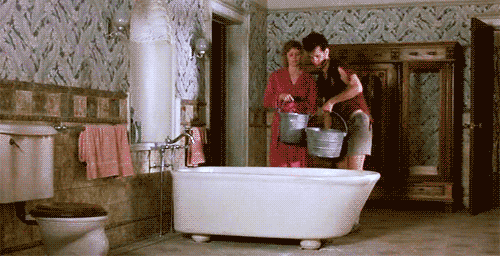 This is where our wonderful Hubbies come into the picture! For those who weren't aware, Hire A Hubby does more than photo-hanging, fence-fixing and deck-building – we are fully licensed* to build from scratch or totally renovate your house. That being said, we pulled in Gary from Hire A Hubby Oxley in Queensland to provide you with the 10 typical answers from your Hubby when starting a project, like a kitchen renovation:
1. What is the schedule for a typical kitchen renovation? Depends on size of kitchen and complexity. If there will be tiling or painting or if you're going to change the layout by removing walls it could take longer but usually a maximum of 5 days.
2. Who will be here every day? This is dependent on your Hubby but for my clients, I have kitchen specialists on my team who will be working at your house every day of the project. I will also be there whenever required by you or my team.
3. How will you protect my property? We would always protect the interior of your property with proper coverings i.e. dust sheets. If you have any concerns, we are more than happy to accommodate any requests like going round the back of the house instead. The security and safety of our customer's homes is also incredibly important to us so we will make sure we protect the property the same way you do. For example, we would not let anyone on the property not authorised by you and lock up any time we leave the site i.e. when going to get more materials etc. Whatever security aspects you define at the start of the project, we will follow.
4. How will you communicate with me? Whatever form of communication suits you. We will be in touch via phone and will schedule personal meetings before, throughout and after the project. Hire A Hubby is completely digital so we will email across all your formal documents like quotes and invoices plus the payment is digital too so you can either pay with your credit card via our PayPal devices or via Bank Transfer, saving you having to carry any cash.
5. What part of my project concerns you? For a kitchen renovation, the main concerns I usually have are 1. Who will be measuring up and ordering the kitchen and 2. Will it be a custom kitchen or pre-designed flat pack? Before you even start designing and ordering your kitchen, we can be there to help. At Hire A Hubby we can carry out the whole process and have a single view of the job from start to finish, which is sure to help resolve some of those planning stage headaches!
6. What will happen if there is a change order? Of course this is dependent on how much of a change it is. We will always try to accommodate it but sometimes it's not possible depending how far along the project we are and extra charges may be involved. We would never proceed with any changes without your approval first.
7. How will you let me know I need to make a decision? Anytime a decision is required and you're not home to discuss in person, I will call you and support it with photos via email or mms. All the Hubbies have smartphones so we can send these images across on the spot.
8. How do I reach you after hours? You can personally call/message me anytime if you have any questions or concerns, my phone is always on. If you'd prefer, you can also email me – I check my phone regularly so will pick these up asap.
9. When do I need to be available to meet? During your project we understand that our paths may not cross that often if you're at work when we're working so we can arrange to meet whenever it is convenient for you. We want to make the process as easy as possible for you!
10. What kind of documentation will I receive when the project is done? You will receive a invoice detailing each scope of work and any changes or extras listed also with cash owing and also my bank details should you want to direct deposit into my account rather than pay on the spot with your credit card.
So there ya have it… a kitchen renovation doesn't sound so scary after all! Hire A Hubby are here to make all your home projects as easy as poss. If you'd like to speak to Gary from HAH Oxley, or your local Hire A Hubby Handyman, about starting your home project, give us a call on 1800 803 339 or click here to book a free quote.