Almost one year after the purchase of his territory, Hire A Hubby Carindale, we caught up with Mark Farrenden to find out how he's been getting on…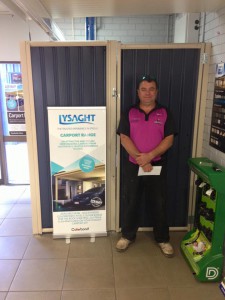 1. You own the Hire A Hubby Carindale territory, which suburbs do you service exclusively?
My franchise covers the Carindale and Mansfield suburbs in Queensland.
2. What's business like for you? What kind of customers are you servicing? 
I have mainly residential customers and many who have referred us to their friends and family. Business has been beyond what I had planned for, with monthly figures above expectations.
3. What were you doing before joining Hire A Hubby? 
I have been involved in the building and construction industry for the last 20-25 years working with civil and residential buildings, sheds, bridge and culvert construction and inspections. I have been employed by local councils and more recently spent 5 years inspecting bridges around Australia for a research and consultancy company. I was also training people in bridge inspections across Australia; I enjoyed meeting fellow workers and passing on my knowledge. This in hand is what has helped us the most with Hire a Hubby, knowing that meeting the customer, being prompt, keeping them informed and delivering a great product will help build your business. I am always happy to have a chat to the client, give them advice and at the end of the day feel good that I have helped someone.
4. How do you find the support and training from Hire A Hubby? 
Very helpful and supportive when it is required. The training before starting business was excellent. It was good to get the business in your head and understand the marketing & customer focus that is the most important part of running a business. In this day and age having the right time saving technology is paramount. This was the selling point for me as I was aware of CRM software from my previous employer; having this and understanding the software makes business operate smoothly and efficiently.
5. What prompted your interest into our organisation?
Curiosity. The marketing concept of Hire a Hubby grabbed me and I see it every day when driving around. Often when parked at traffic lights you will notice a female passenger notice the signage and quickly poke her husband often saying stuff like 'that's what I need'!
6. What's the main reason you decided to buy a Hire A Hubby franchise?
I was looking to buy a business (not necessarily a franchise) and I found Hire a Hubby. After some good research I felt that it ticked all the boxes for what I was looking for and was a perfect fit for my skill set. The income guarantee was also a plus as this told me that if they were willing to put up that type of money than the work is there to be taken.
7. What are your business goals for the next 6-12 months? 
My plan is to establish some long term clients and develop already established clients. To employ a casual/part time employee and to have my wife come onboard to handle finance, quotes, local area marketing etc.
If you like what you've heard from Mark, speak to our Recruitment Team today to find out the business opportunities available in your area. Simply click to
request more info
or give us a call on
1300 653 778.