Moving house can be a stressful time. From making sure your old home is up to scratch for sale or your rental home is in the right condition, to settling into your new home, there's a lot to think about.
Our hubbies provide an end-to-end relocation service, helping every step of the way from when you've made the decision to move house to when you're settling into your new home. Our aim is to smooth the transition as much as possible because we know how taxing it can be.
Whether it's a full home renovation or hanging a mirror on the wall, we're here to help.
Here's how we can ease you through the whole process.
Showing your home for sale?
Preparing your home for sale can come with a lot of hidden surprises. Each time you replace, repair or clean one thing in your home, problems seem to pop up in another area. We can get your home up to scratch for new buyers. We aim to maximise your street appeal and improve the interiors of your home so that you can recieve the best price as possible on your sale. We can help you with those large overwhelming tasks like an entire home renovation to small finicky tasks that you simply don't have the time or don't have the tools to do yourself. We can replace broken roof tiles, clean your gutters, replace flooring, paint the inside and outside of your home, add skylights, re-stain the floors, pressure clean your outdoor areas and make general repairs where there's wear and tear.
Moving out of a rental home?
If you're moving out of a rental home and need to make small repairs before you exit, we can help. We'll patch up chipped and cracked paint, fix and replace floorboards or tiles, patch up dents and holes in the wall and repair shelves, doors and cabinets.
Moving your belongings from your current home to your new home
Moving belongings from one house to the next is exhausting and always takes longer than you think. We can help by de-assembling furniture like dressers, beds and wardrobes and assemble them again in your new home. We also de-stall large appliances from wall racks like washers and dryers and reinstall them in your new home.
Settling into your new home
It can take a bit of work to get your new house feeling like your own home. We can help you settle in by hanging artwork, installing any shelves or large appliances you need and making sure your fire alarm is working. We can also help with larger tasks like building carports, installing fences, building and installing cubby houses and adding new locks and fly screens.
Whatever the task, no matter how big or small, our hubbies are here to help.
Stress less throughout the move with our end-to-end relocation services: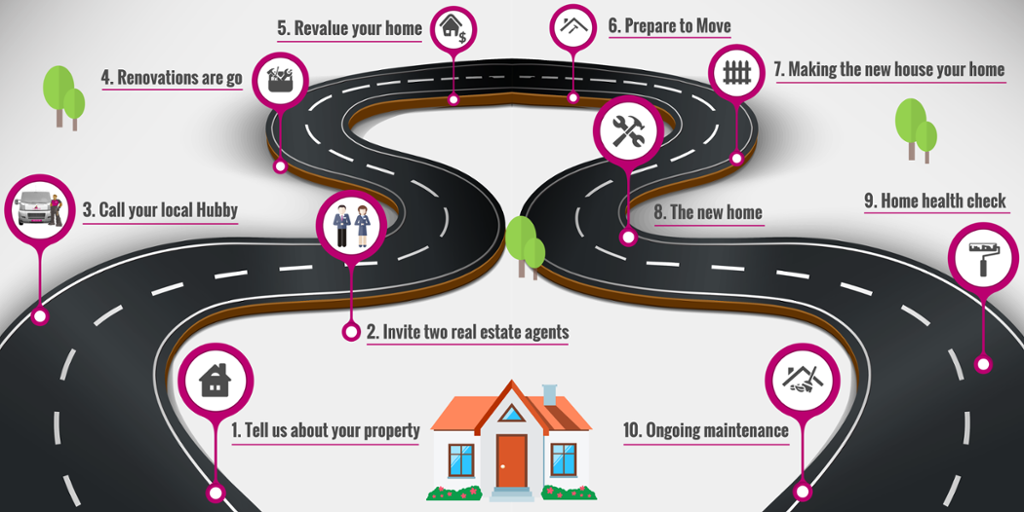 Book a free quote with us today.