October is 
National Safe Work Australia
 month and it's all about eliminating hazards and preventing injuries that stem from unsafe practices in the workplace.
This year's theme is: Safety is a frame of mind. Get the picture.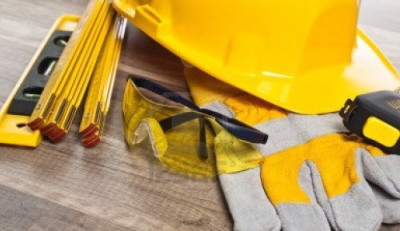 Figures from the National Injury Surveillance Unit show 25,000 Australians are hospitalised due to DIY-related injuring including ladder falls, nail gun injuries, and accidents from lawn mowers and power tools.
We're all about safety at Hire A Hubby, so here are a few things you can do to make sure 'do-it-yourself' doesn't become 'damage-yourself'.
1.     Always wear protective gear.
Always consider the personal protective equipment (PPE) you wear when DIYing. The list below shows some staple pieces in every DIY arsenal and what they're used for.
Gloves – handling heavy, sharp or prickly objects (carpentry, gardening)
Safety goggles – protection from flying debris and toxic fumes (sawing, varnishing)
Ear plugs – protection from loud power tools (drilling, sawing, mowing)
Coveralls/protective clothing – barrier for chemical agents (bleaching, painting)
2.     Be careful with power tools.
Accidents happen even to seasoned DIYers. Always take precaution when using electrical equipment and make sure there are no safety faults.
3.     Know your limits.
Don't take on jobs that are out of your league. The worst way to finish a DIY project is with an injury. Also, paying a professional to fix a botched project is more expensive that engaging one from the start.
4.     Bring in the pros.
State-of-the-art tools can be bought at any hardware store but you can't buy experience. Use professionals when expertise is required.
For more information or advice about your home DIY project, give Hire A Hubby a call on 1800 803 339 or book a free quote online here.