Done well, a display of wall art can become a piece of art in its own right.  However, hanging wall art confuses many home decorators.  What to hang?  How many?  How high? Where to hang? And more than anything, how to hang?  The list of questions you need to ask yourself before you even start can be quiet extensive.
Here are our top tips for creating a display that you will be proud of.
What to Hang?
Wall art can be anything you find attractive.  Some popular choices include, family photos, children's art, prints and paintings, or a collection of trinkets and postcards.  Many people include empty frames among their display, simply because the frame itself is attractive and adds to the feel.  Vintage door and windows can be used to frame your images.  Be as creative as you like.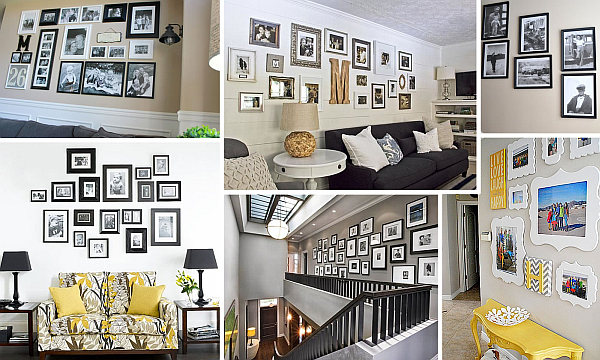 How many pieces make up your display is up to you.  Do you like a jumbled look or are you a minimalist?  Minimalists might use a few pieces, arranged symmetrically or one piece, strategically placed.  Whereas, a person who likes things less ordered might choose many images with different sizes and styles of frame, giving things a random more look.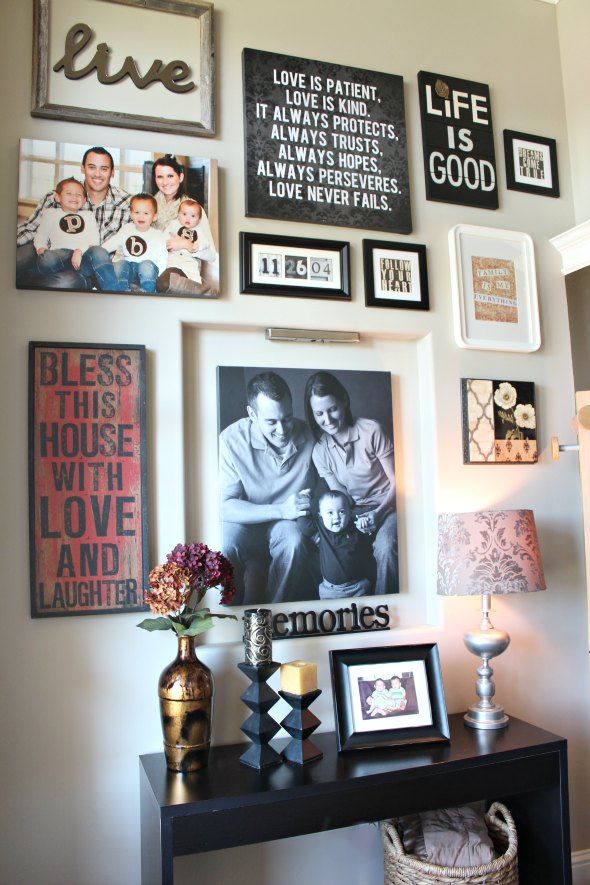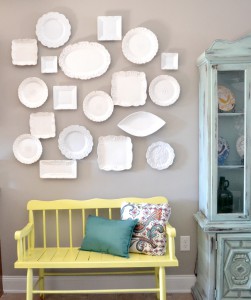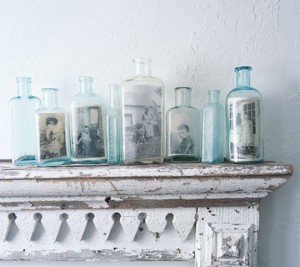 Where to hang?
As a general rule, it's important to match the size of the art to the size of the space. Large, one off pieces or big displays will overwhelm a small space.  In a large room, however, large displays provide a focal point.  Never hang a lone, small piece on a large wall, as it will stand out for all the wrong reasons.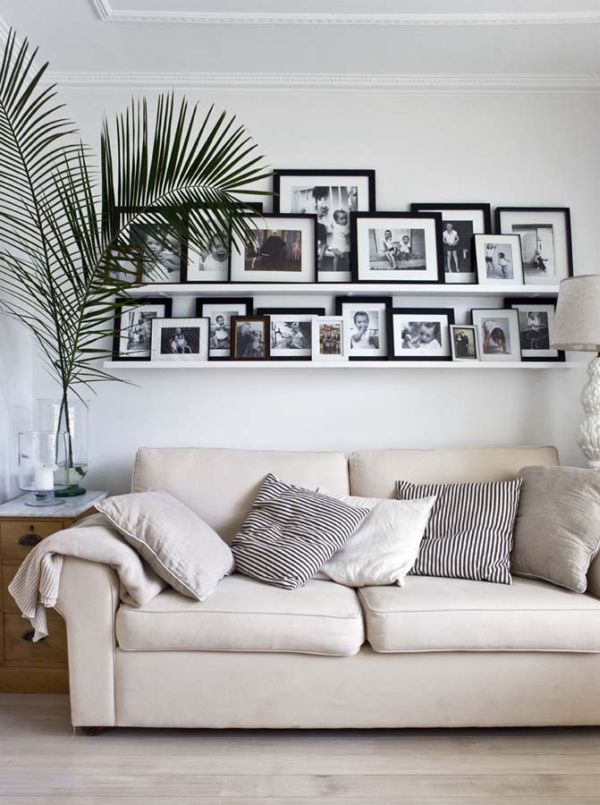 Narrow walls, such as hallways or the spaces either side of a doorway, lend themselves to a series of pieces in a line, rather than a lonely single piece.  While on stairways, hanging a collection of pieces diagonally works best.  Large displays look good over pieces of feature furniture, such as a lounge or bed, where they complement the size.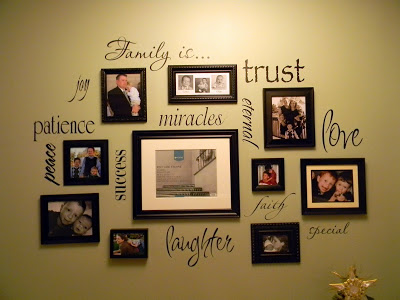 Image Source: http://wickedwashburns.blogspot.com.au/
With those general rules in mind, you can hang your pieces anywhere that there is a piece of free wall, depending on your style.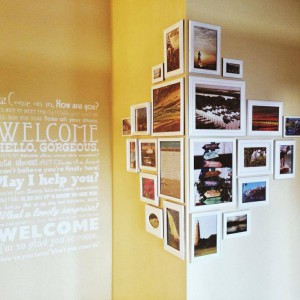 How to hang?
After you've decided what and where, you need to figure out how.
The first thing to consider is the type of wall you will be hanging your display on.  Plasterboard, timber, and masonry walls all require different techniques when it comes to inserting holes, so you will need to know this before you start.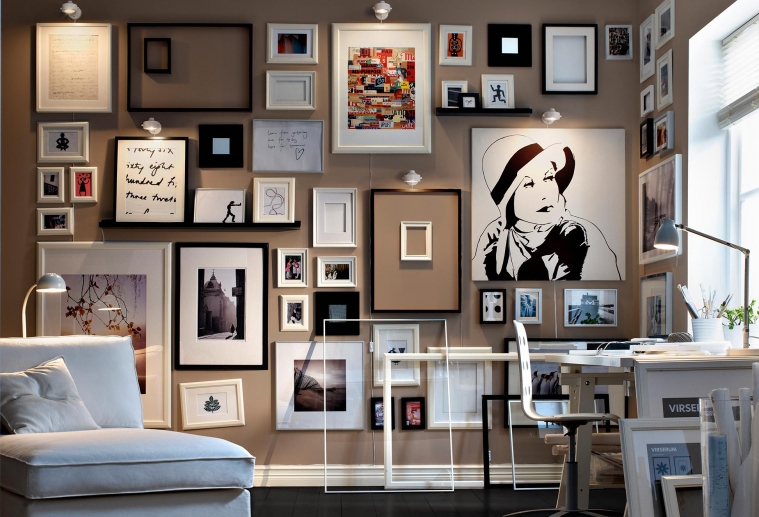 There are many great options on how to hang your art.  The most traditional is to hang each piece on its own, but you can also consider placing them on a picture rail, hanging them from horizontal or vertical wire, or using a recycled door, window or pallet as your backdrop.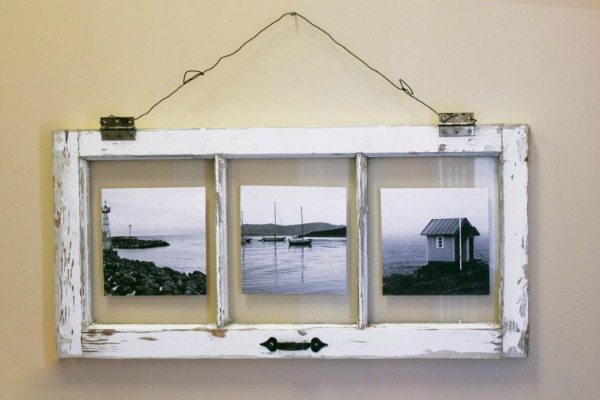 Whichever way you choose to hang your display, you should remember to position your display so the centre is at eye level for a person of average height.  In a separated dining room, most people will be viewing from a seated position, so keep this in mind when arranging pieces in this area of your home.
The layout of your pieces will depend on what appeals to your own aesthetic style. It's your time to get creative.  Use paper templates, made by cutting brown paper to the shape and size of your pieces, and tape them in place with masking tape until you have found an arrangement you like.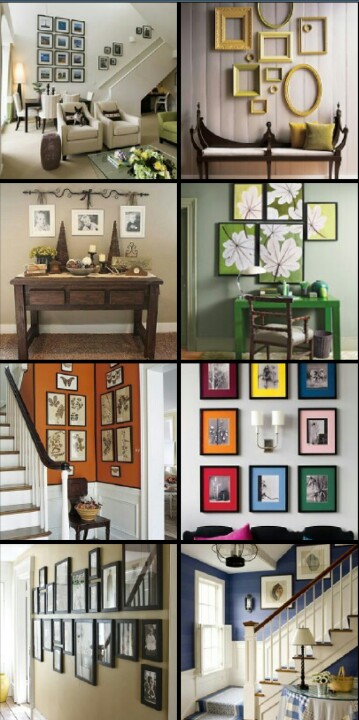 Hanging you precious art, mirrors and memories can be daunting. if DIY is not your strong suit, give Hire a Hubby a call for an obligation free quote on 1800 803 339 or visit the website www.hireahubby.com.au.