It is essential that we do everything we can to protect our homes from damage. Especially as we head into the cooler month of Autumn.
Hire A Hubby have prepared for you the 'Top 6 Essential Autumn Home Maintenance Jobs'. This is a list of things you should be checking your property for this Autumn.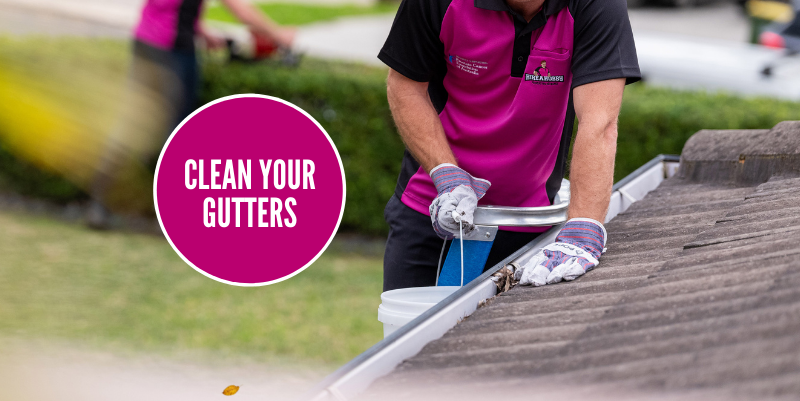 1. Show your gutters and roof some love!
When was the last time that you inspected your roof? Regular roof check-ups are something we should keep in mind. A roof is the first line of defence in protecting your home from water damage. You should regularly check your roof for any cracks, holes or loose and broken tiles.
Now is the time to clear you gutters of leaves, moss, twigs and debris. Gutters play a crucial role in protecting your home by draining away rainwater from your roof. You should check for any broken gutters or down piping that may need replacing. Blocked gutters will retain water and can cause leaks and water damage down the side of your house's external walls. This in turn can lead to damp as moisture gets drawn though the outer wall and into your home.
As well as gutters, check your down-pipes and stormwater drainage to make sure that they are clear of any blockages.
Tips: The obvious sign of a clogged gutter is water spilling out like a waterfall whenever it rains. Use a running hose down gutters and pipes to detect leaks (or wait until it rains).
Hire A Hubby have extensive experience in roofing repair and maintenance work. Our hubbies will check your roof for leaks, damages, tile / flashing replacement and down-pipe issues and make any necessary repairs as required.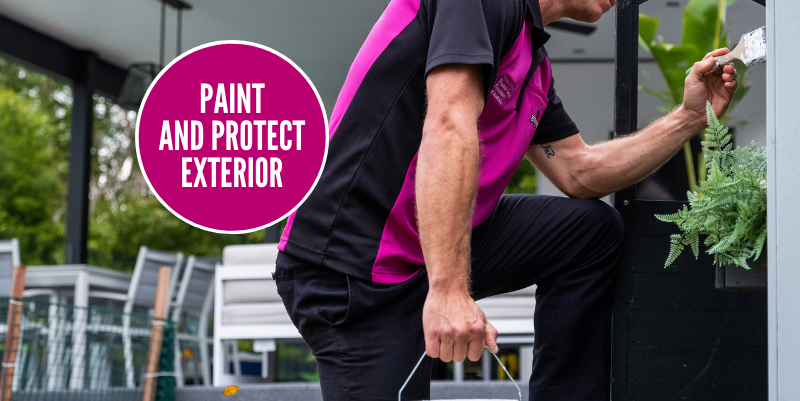 2. Paint and protect your exterior walls
Choosing to paint your exterior now will unravel any damages or exposed areas your property would likely succumb to come Winter. It will also provide an extra layer of protection when faced against the Winter elements.
If you have a high pressure cleaner, it may be a good idea to give the outside of your house a good clean to prevent build up of dirt, cobwebs, mould, etc. Take care around windows, doors, vents, and pipes to prevent water penetration of internal spaces.
If you notice drips or water stains running down your internal walls, this is definitely a sign of water ingress somewhere. Locating where the water is getting in can sometimes be a little tricky, but this is a situation that really deserves immediate attention as it will continue to get worse if ignored.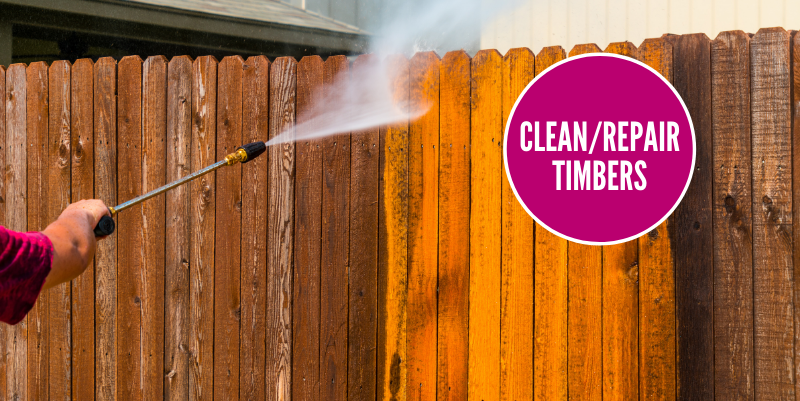 3. Clean, repair and repaint those timber areas
It's important to protect any exposed timbers by sealing them for the cooler and sometimes more harsh weather.
Wooden decks and Pergolas are recommended to be resealed at least 2 0r 3 times a year to extend its lifetime and keep it in good working order. You should also high pressure clean them to remove any dirt, cobwebs or stains regularly.
If your fence has signs of wear and tear, deal with the issues now or face the likelihood of further deterioration come the Winter. If there is already too much damage to your fence, why not simply replace some of the existing panels. Just make sure that any new fencing complies with your State laws.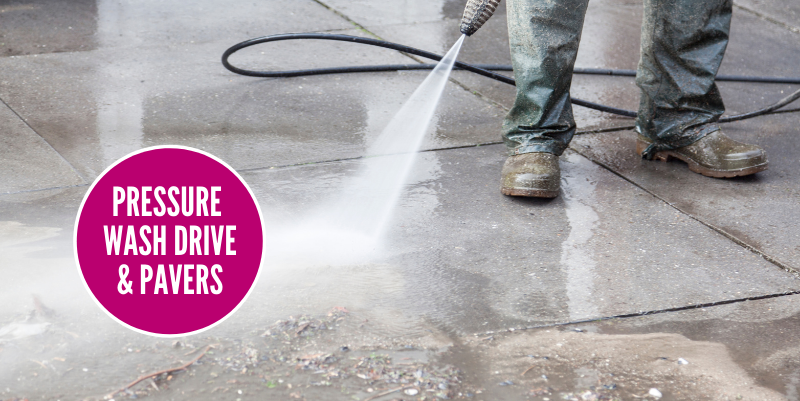 4. Clean up your driveway, paths and pavers
The driveway is the entry path to your home and one of the key areas outside that you want to keep appealing as well as functional.
Driveways are prone to stains and spills from grease and oil. Regular maintenance is important to ensure it has a long life and looks its best.
High pressure clean of all your hard surfaces such as driveways, paths, and pavers. Removal of dirt, oil and grease, or moss will always be easier with regular cleaning. Not only will they look good, but the potential for slips and falls will be minimised.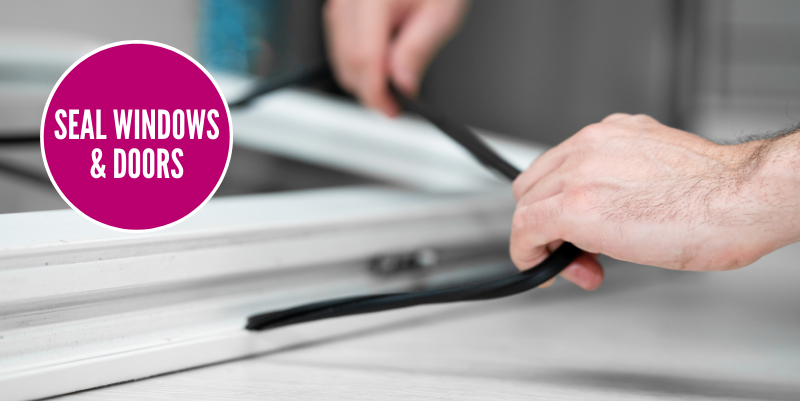 5. Sealing draughts – stop the cold
An easy way of keeping out the cold is by applying weather seals around your windows and doors. You may already have seals in place. Check your rubber seals around your external doors, windows and skylights for damage and wear and tear. You should replace them if they appear damaged. Seals will provide extra comfort, especially during Winter.
Fact: Did you know that blinds and curtains reduce heat loss of a room by around 10%.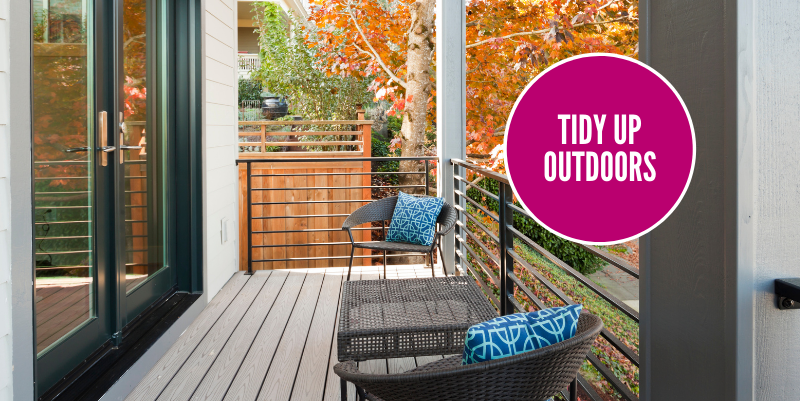 6. Declutter inside and out
As we transition into cooler weather, you may like to take the opportunity to declutter your home. Decluttering doesn't need to be overwhelming or time-consuming. The quickest method is simple – if you don't use it and it has no joy or value, remove it.
Once you've decluttered inside your home and packed away your Summer wear, you may want to turn your attention to the garden. Any unused outdoor furniture should be covered, packed away or disposed of.
If your backyard is in desperate need of a general clean up, give Hire A Hubby a call. We will remove all the junk you've gathered over the years and remove it for you. We can also help with any landscaping or repair work.
By following these tips, you are ensuring your home is in the best shape possible for Winter.
Contact Hire A Hubby for further advice and assistance. Call 1800 803 339 to book a Quote, or click here to Book online.