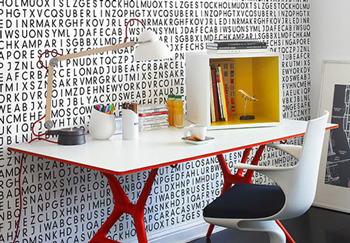 Digital imaging and a renewed interest in wallpaper design has seen wallpaper return as a popular idea in modern home design and an easy way to boost a home improvement project. And unlike years past, new wallpaper technology has made DIY wallpapering much easier. However, there are still common mistakes people make, leading to scrapping the first effort and starting over.
This week, our Hire A Hubby expert handymen share their tips on how to apply wallpaper properly.
Preparation
Properly preparing a wall before hanging wallpaper is the common cause of bad wallpapering, resulting in an uneven finish. Holes in walls need to be patched and sanded; old wallpaper needs to be stripped completely; and loose paint needs to be scraped or sanded where necessary.
Mapping
If you're using wallpaper with a simple or plain pattern, mark out your first hanging starting from one corner of the wall. If you're using a custom-design pattern or irregular design, mapping may depend on the positioning of a certain image. Therefore, select that area and mark the line around your first hanging.
Application
There are a variety of wallpaper types available, from paintable wallpaper through to pre-pasted (pre-glued) wallpaper and un-pasted wallpaper, and they all have different wall application methods.
1. Pre-glued wallpaper – these require the wallpaper dipped into water to soften before applying it to walls. The key is to let it rest for 15mins between being wet and application, and then smoothing it over once it is hung on the wall.
2. Un-glued wallpaper – this wallpaper requires an even coat of paste and time for softening for at least 15 minutes before application to wall.
3. Paintable wallpaper – apply paste to wall and once the wallpaper is applied, leave it to dry overnight. Only use acrylic paint or you may dissolve the wallpaper patterns.
Wallpaper is great for livening up feature walls in living rooms, decorating long hallways, or adding character to bedrooms. Make sure they're part of your next home improvement project.
If you'd like advice which wallpaper to use or how to apply wallpaper properly, give Hire A Hubby a call on 1800 803 339. Alternatively, explore our website www.hireahubby.com.au or get an obligation free quote here