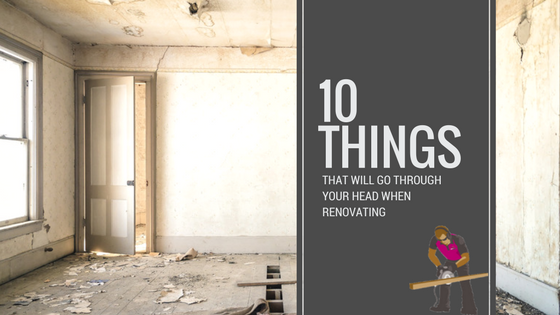 Renovating is the dream and the nightmare at the same time. Your home is about to be transformed into something incredible but you're in for a ride whilst the transformation is taking place! We put it out there to our Hubbies to give us some of the quotes from their renovation customers to prepare you for best and worst during the work to your house…
1. "HOW EXCITING, WE'RE FINALLY DOING IT!"
For the majority of our customers, a renovation is not something they decided overnight. Taking the first step to practically ripping your house apart and starting again is not an easy step so when the plans are finally in place and the work starts, expect to be overwhelmed with excitement!
2. "OK HOLD ON, ARE WE SURE WE LIKE 'GREENERY' – IT'S THE COLOUR THIS YEAR, BUT WILL IT BE IN 5 YEARS TIME?"
The project's started and everything's been agreed with your local Hubby but suddenly doubt takes over. You start to question all the decisions you've made. Will this colour suit our furniture? Are we sure about those tiles? How will all our stuff fit in the new cupboards? Don't second guess yourself!
3. "WOULD IT HAVE BEEN BETTER TO START WITH THE KITCHEN OR THE BATHROOM?"
Be prepared to go without cooking and showering facilities for a little while! Whilst renovating you'll be first in line at the weekly Bunnings' Sausage Sizzles along with a proud owner of a new gym membership (go for the one with the powerful showers!). As part of your renovation, your Hubby can provide project management services to ensure the least disruption to your life as possible.
4."SHOULD WE JUST HAVE MOVED OUT AND RENTED A HOUSE?" 
After a month without a kitchen or a bathroom, it becomes slightly more difficult not to wonder why you didn't just move out! Just keep telling yourself that camping inside your own home is a nice little adventure and try to keep the mood lighthearted as much as you can.
5. "WTF WERE WE THINKING?"
Our house wasn't that bad in the first place right? Wrong! There will be many WTF moments throughout the works, like 'how could there possibly be this much dust' but you've got to keep thinking of the light at the end of the tunnel.
6. "THE BATHROOM'S FINISHED, REALLY? THE BATHROOM'S FINISHED!"
Do a little dance, you've got your first room back! As soon as you hit the first milestone with a room finished, everything will start to get easier. Just look at how great it looks!
7. "WAIT, WILL OUR FURNITURE STILL LOOK GOOD?"
It's worth thinking about this before you start the project. Will you still want to keep your furniture once everything's finished? If not – get rid of everything before you start. Gumtree is your friend here to make some extra moolah for the new bits and bobs.
8. "DID YOU HEAR SANDRA HAD A COMPLETE NIGHTMARE DURING HER REFURB?"
As you start talking to your friends and neighbours about your project, you'll no doubt hear a number of horror stories. At Hire A Hubby we are committed to customer service and communication! We carry a workmanship guarantee with everything we do so you can have that peace of mind that you won't find out during the last week that your project is about to be extended by 4 months at a cost of $$$$$$. We endeavour to keep you in the loop throughout and our project management will allow us to recognise any potential hiccups at the earliest opportunity.
9. "THE END IS NEAR!"
As the project wraps up, you'll definitely be more aware that the end is in sight. You go back to the level of excitement you had in the first stage of the reno.
10. "THIS WAS SO WORTH IT."
Take a walk around your beautiful new home – all of the negativity, drama and second-guessing now becomes redundant because you're now living in your dream house. All your hard work has paid off and we couldn't be prouder to see the transformation complete.
Can you think of any more? Tell us on Facebook!
Do you have a renovation project in mind? Speak to your local Hubby today on 1800 803 339 or book an appointment online.