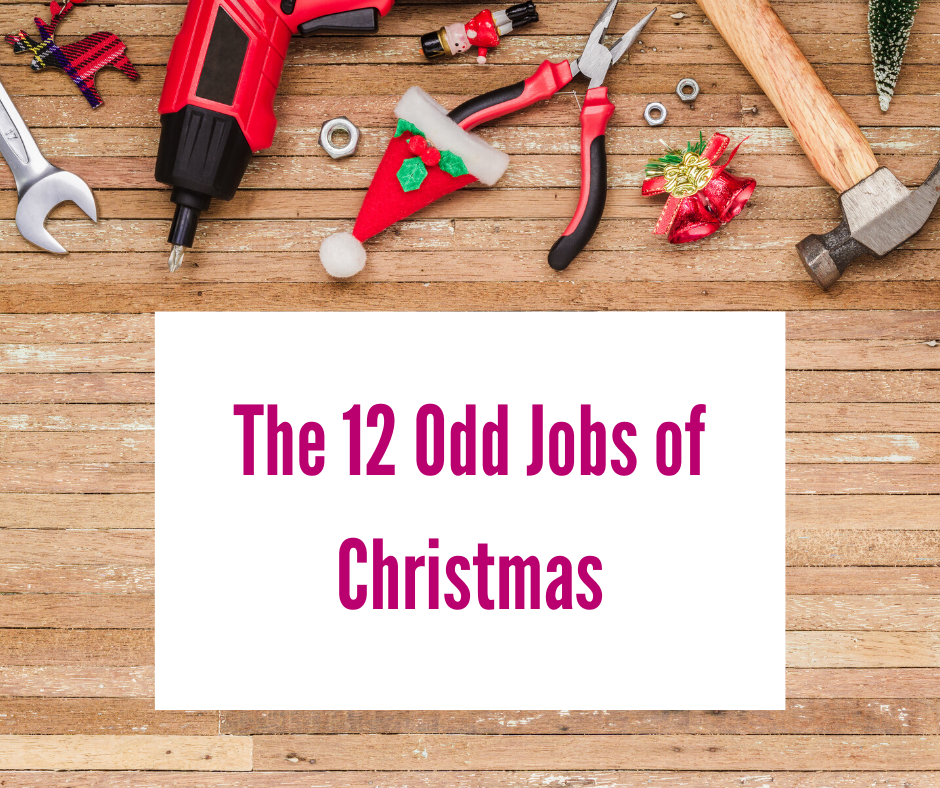 'Tis the season (Almost). Christmas is just around the corner, so people get ready! If you're anything like me, you have a tendency to leave everything until the last minute. Not this time! We've put together a list of odd jobs you might be facing this season. A list of 12 to be exact. And we've branched out and called it 'The 12 Odd Jobs of Christmas'. Our Creativity knows no bounds.
1. Deck Maintenance
It's going to be a hot summer, so make sure your deck is prepared. If you can't remember the last time you cleaned, stained and resealed your deck, chances are it needs to be done!
2.  Outdoor Maintenance
There's nothing better than being outdoors over the Christmas season. Make sure your backyard is looking marvellous for the cricket. Any odd jobs? – you know who to call. 
3. Cubby House or Trampoline Assembly
If Santa's delivering an outdoor gift this Christmas, it's worth considering how such a gift will come together. Hire A Hubby can pick up where Santa left off and do the hard work for you, so your kids can enjoy the great outdoors this summer.
4. High Pressure Cleaning
Take the pressure off yourself and have Hire A Hubby take care of all your outdoor cleaning. From patios to decks to driveways to exterior walls, we've got the clean machine to keep your house looking evergreen. 
5. Garden Shed Installation
You deserve a gift this Christmas that just keeps on giving – A Shed. The adult version of a cubby house. A home away from home. An outdoor marvel that says, "I've made it."
6. Flat Pack Assembly
How good is shopping for new furniture!? How bad is assembling new furniture!? Keep the good and drop the bad. We'll assemble it for you!
7. Painting
A new paint job can completely change the feel of your home. Say "Merry Christmas to me" and Hire A Hubby to inject some colour into your life. Quick tip: use low to no VOC (Volatile Organic Compound) paints.
8. Pool Fencing
Pool safety is essential. If your existing fence could use some work, or you need a new fence entirely, give us a call. You may be too cool for the pool but you can never be too cool for a pool fence. See what I did there?
9. Gutter Cleaning
Have you ever thought to yourself, "I should really get up on the roof and clean my gutters out?" No, me neither. But it's something that needs to be done, particularly in Australia. Protect your home from potential fire hazards, and Hire A Hubby to clean out your gutters and install gutter guards.
10. Picture and Mirror Hanging 
Studies have shown that pictures and mirrors hung on an angle lead to early onset craziness (Fake News). If you have anything to put up call Hire A Hubby to save you from yourself. 
11. TV Mounting
Can't find any studs? 
Hire A Hubby to mount your TV correctly.
12. Rubbish Removal (Mini Skip and Trailer Loads)
There's a good chance you're going to have a trailer load of rubbish this Christmas and New Years Day. There's also a good chance you probably already have a trailer load of rubbish you've neglected to dispose of. Not a problem. Hire A Hubby is here to take out the rubbish by the trailer load before and after the holiday season. 
If you have a To-Do list that's just not getting done, give us a call or visit the website at www.hireahubby.com.au 
CALL 1800 803 339