Since the Christmas holidays, you may have found a lot of things at home that is in need of fixing, replacing or refreshing. You may want to compile a "To Do" list when tackling these jobs and also consider whether the work involves the use of colour.
2022 Pantone Colour of the Year
The Pantone Colour Institute, the global authority on colour, has recently declared that "PANTONE 17-3938 Very Peri" is the official colour of the year 2022.
"Very Peri displays a spritely, joyous attitude and dynamic presence that encourages creativity and imaginative expressions."
Leatrice Eiseman, Executive Director of the Pantone Colour Institute
Don't be dismayed by its bright and accentuating purple hue. There are many ways you can incorporate the look into your home interior or exterior.
1. Painting
You may be considering painting a whole room or just a single wall, but painting is a cost-effective way to give your home a new look. The boldness of "Very Peri" may not be to everyone's liking, but it will certainly help you as a starting point in the paint selection process. Choosing the right colour is probably the hardest part of the process. As for the actual painting, you should leave that up to Hire A Hubby.
Our Hubbies can help you with all your painting requirements. From cleaning the surface areas, taping edges, securing drops sheets, cutting in, paint application or patch up and repair work, and cleaning up.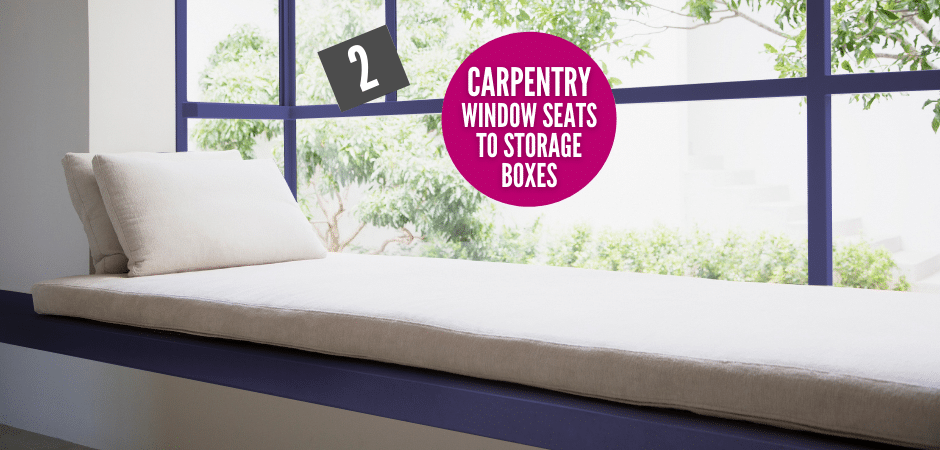 2. Carpentry
Don't miss out on the opportunity to inject colour into your home. Colour can be added to practically everything. It is best strategically used when dealing with mostly neutral colour palettes, but you want to use just the right amount of colour that won't overwhelm the space. A splash of colour to the woodwork can make a once-dated look or dull finish spring back to life.
Window seats and storage boxes
Storage – doors,

cabinets, han

dles

Cabinets – door

s (matched with new handles – black, silver, rose gold, gunmetal grey)
Bookshelves (and bookends)
Home offices and study nooks – walls, flatpack furniture, shelving, frames and pictures
Cubby houses – walls, stairs, slide
Covers for wheelie bins (maybe not colour, but definitely staining)
Handrails and balustrades
Privacy screens

3. Bathroom, Kitchen and Laundry
Adding colour both enhances and infuses a room with individuality and personality. It can provide contrast to areas that once looked flat.  Remodelling your kitchen with a colour like "Very Peri" could give your cabinets that desired lift. Maybe even consider a two-tone kitchen or bathroom as pictured above?
When you think of laundry rooms, usually sterile, white or neutral areas are first to mind. Don't be afraid to borrow patterns or colours from your existing kitchen or bathroom. Continuing the colour or pattern into the laundry area can make the area better connected with the home. Be creative – colour doesn't have to be limited to certain areas and can brighten up a once ordinary space.
Painting is definitely on the list when it comes to these rooms, but also consider:
New cabinets and hardware
New doors and handles
Shelving
Mirrors or shaving cabinets
Vanities and basins
Benchtops
Tiling and grouting
Hanging new artwork
Utilising "dead" space – storage, shelving, bench seats etc.
Thinking about the room and the mood or feeling you want to create will help you in your selection of colours, textures, and finishes. This should be part of your planning process. After you (or our Hubbies) have done the job, styling will be easier.

4. Outdoor Jobs with Colour
There are lots of ways to add colour to outdoor spaces without breaking the bank. Colour can come from a variety of sources including furniture, pots, tiles and of course, plants. The impact that colour has on a landscape cannot be understated.
The less expensive option is to focus on your outdoor accessories. Change any worn seat cushions with colourful or patterned replacement covers or even paint some of your plain-looking outdoor pots with bright and bold colours. Add an outdoor rug to your patio or deck area or even consider painting an exterior garden wall to accentuate any garden foliage.
Outdoor kitchens
Wooden furniture
Pergolas
Cubby houses (kids love colour!)
Handrails and balustrades
Fencing – protect and upgrade with a fresh coat of paint or replace with a new coloured version
Paving – high pressure clean or select a new style, shape, and colour
Privacy screening
Shade cloths
Covers for wheelie bins
Vertical gardens
Privacy screens
Next Step
Create a 'To Do' list of home maintenance and DIY jobs and don't forget, we're here to help.