A large piece of art or a feature mirror can look great in your home, but they can also cause damage to your home or person if not installed properly.
For anything that weighs more than 10kg you really need to start thinking about the hardware you use. Unfortunately the 'hammer and nail' approach doesn't always cut the mustard.
Let's take a look at what your options are.
Plasterboard walls:
For plasterboard (gyprock) walls the simplest way is to drive a screw directly into an underlying wall stud to support the weight. An electric stud finder is normally needed for this and unfortunately studs aren't always where you want your hanging.
In this case, professionals will often use a plastic winged anchor to stop the screw from pulling out of the wall plaster. Sometimes heavy picture frames require two anchors for extra strength and stability.
Always take care when installing these anchors as too much force and over tightening screws can cause damage.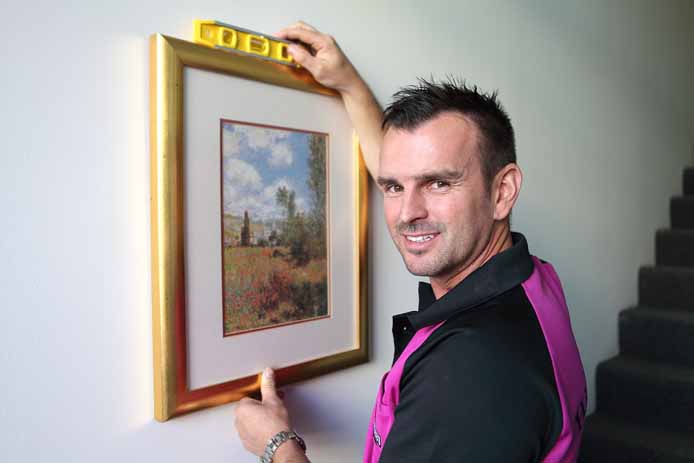 For hangings that weigh 20kg or over you'll need to consider attaching a plywood reinforcement board to your wall to secure the hanging and distribute the weight.
TIP: inserting nails and screws on an angle will make for a stronger hook.
Masonry walls:
Brick, stone, and concrete walls will require an anchor (or two for heavier frames) installed with a specialised masonry drill bit. Anchors for masonry walls are different to the ones used in plasterboard and it's important to get one suitable for both the wall material and the weight of your hanging.
Professionals will normally wear eye protection when drilling into masonry surfaces and care needs to be taken to avoid cracks and costly mistakes. Be aware that any holes and mistakes in masonry materials are permanent so if you're beyond your limits, call the experts in.
For help or advice on hanging a heavy item, have a chat with your local Hire A Hubby on 1800 803 339.