The family's come and gone for Christmas and New Year's Eve and your lawn has seen better days. Whether it's the kids or grandkids terrorising it with days-on-end games of cricket, inflatable pools that haven't moved or you've simply left outdoor furniture sitting in the same spot for too long and it's killed patches of grass, now you're wondering how it'll ever look lively again.
Summer can be a tricky time of year to keep your grass looking good, but this week we're giving you a few tips on how to love your lawn again.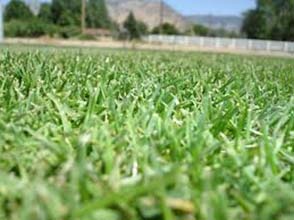 1. Aerate lawn
Particularly in summer, lawns with high traffic areas can become dry and compacted which prevents them receiving water and vital nutrients. Run a garden fork over the surface to open up the soil at 10-15 cm intervals.
2. Grass seeds and fertiliser
Scatter coated grass seeds over any bare areas on your lawn and then fertilise it. Fertiliser injects colour back into grass and should be spread evenly over the whole surface of the lawn, followed up with light watering. Make sure you fertilise well before you plan to use your lawn next.
3. Sprinkle, don't saturate
Recovering lawns should remain reasonably damp for a couple of weeks but don't go too crazy with the water, saturating it won't speed up the process.
4. Mowing
Don't mow the lawn if it's water-logged from rain – you'll tear it all up. The other problem people make in summer is setting the mower blades too low. A height of 4-5 cm should be fine otherwise you're likely to scalp the lawn.
5. Don't leave furniture on the lawn.
Don't ruin your good work by leaving outdoor furniture or kids toys on the lawn for too long, killing the grass underneath.
If you need advice on handyman work around the home or backyard maintenance, or if you're simply after an obligation free quote, give your local Hire A Hubby a call on 1800 803 339 or book a free quote online here.