With children spending more time indoors as the cooler months flow in, there's no better time to make sure your home is child safe.
Some people say you should crawl around your house to see what dangers you can spot from a child's perspective, but this week Hire A Hubby has saved your knees by giving you four important areas of the home to focus on.
Kitchens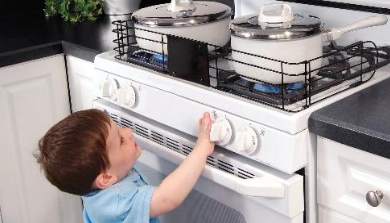 You should lock any cupboard or drawer containing items that are potentially dangerous to children such as knives and sharp objects – there are a variety of locks available that don't impede the design of your kitchen. Kitchen appliance cords should be kept out of reach of children at the back of benches and place protectors on oven switches to prevent children turning them on.
Stairs
Whether it's indoor stairs, or stairs to your front door, always fit stair gates at the top and bottom of stairs to prevent adventurous children from climbing them unsupervised. Always make sure stairs are clear of clothes, shoes and other objects that cause hazards.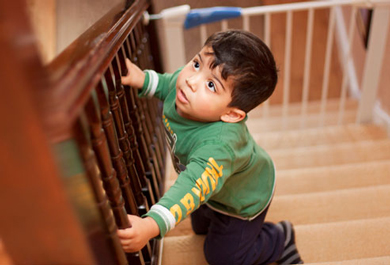 Dangerous substances
Make sure items such as medicines, cleaning products, cosmetics and matches are out of reach of children. We recommend keeping them in a locked cupboard and never store these substances in unlabelled containers that may appeal to children.
Doors and windows

Ask your local Hire A Hubby about installing safety glass on main doors, or applying shatter resistant film. You can also put opaque stickers on the glass door to help children see it.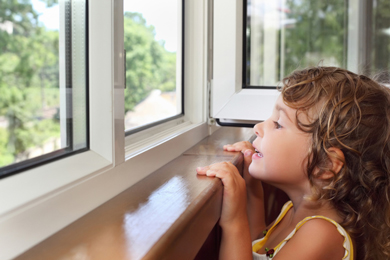 Chairs, beds, play boxes and anything that a child can climb on can quickly become hazards if placed underneath a window. If you can't avoid this, consider installing window locks that are childproof. You can also install window catches that prevent a window opening fully.
Heaters and fire hazards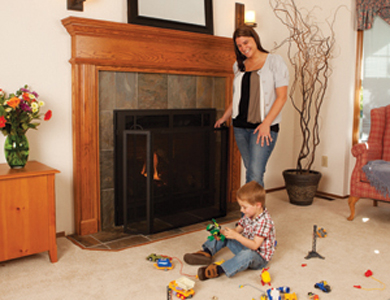 Critical at this time of year, make sure your smoke alarms are properly installed and in working order. If you own a fire place, ensure there is a guard/ screen around it to prevent children from entering. Make sure heaters are in working order and keep them away from curtains, tablecloths and bedding and always test electric blankets before use.
If you'd like advice on how to make your home safer for your family, give Hire A Hubby a call on 1800 803 339. Alternatively, explore our website www.hireahubby.com.au or get an obligation free quote here