Man cave, man sanctuary or mantuary, den, pool room, or garage – call it what you like – the idea of having his own space in the home to do as he pleases (at least in the decorative sense) creates longing in many men.  Whether it's tools and DIY, gaming, enjoying a quiet drink, hanging out with the guys, watching TV, or enjoying his favourite author, many men like to have a place to call their own, where they can indulge their hobbies uninterrupted and get a little man styled "Me Time".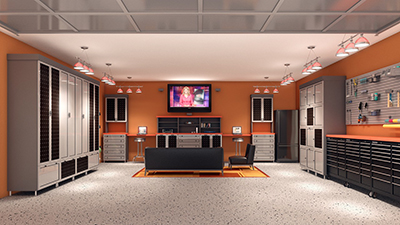 Image Source: www.rentreporters.com
So, what does it take to make the perfect Man Cave?
Choosing your Space
Don't try to set up a man retreat in a room that is commonly used by the rest of the family.  Even if it's just the disused end of the garage, it's important that this space be away from the hustle and bustle of regular life.
Remember that sound carries through interior walls, so you might not want to set up your man space right next to the bedrooms or the living room, where your partner is enjoying their own slice of alone time.
Man Cave Decor
What will the space be used for? What sort of furniture will best suit your activities?  Will you be hosting a poker game, gaming extravaganza, or Die Hard marathon? Fitting the look and feel of your room to the activities you'll engage in makes a huge difference to the usability of the space.
Try not to pack too much into a small area.  You'll end up feeling confined instead of relaxed.  A few, well placed pieces of furniture are all you need to create a comfortable space to enjoy your recharge time.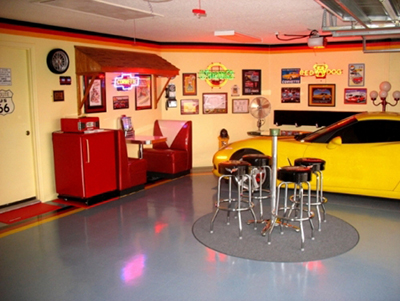 Image Source: www.mancavekingdom.com
Paint and Colour
While dark sofas and a wooden bar are appealing in a man's space, the paint and accessories should be kept light and simple. You don't want your den to have a gloomy, oppressive feel.
At the same time, you will want to stay away from neons and other overly bright colours.  If these appeal to you, you can add them with a few accessories.  Lava lamp, anyone?
Drinks Cabinet and Bar
Whether you're into limited edition scotches, vintage soda, or home brew, a drinks area can be a nice touch. An all-in-one bar and cabinet can suit a large space, while a shelf unit fixed to the wall and a stand-alone bar, or even a wall mounted bench can be more practical if space is at a premium.  There are a number of materials and designs to choose from, depending on your needs.
Be sure to include an ice bucket or mini fridge for when friends drop by. Coolers are best kept for the beach.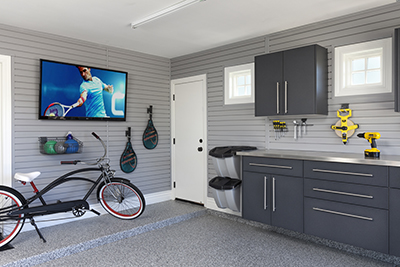 Image Source: www.mancavekingdom.com
Lighting
Remember, it's a man cave, not an actual cave.  You'll want to keep the atmosphere light and bright, not dark and dingy. Install plenty of lighting around your man cave.  Dimmers make great options for watching TV, while lamp lighting may be needed for hobbies that involve intricate, close work. Spotlighting can be used to showcase trophies or works of art.
Memorabilia
No man cave is complete without somewhere to display your montage of memorabilia, photographs or the signed jersey from your favourite sporting team. This is the 'feature wall' of the room, so choose a wall that will show it off to best effect. Model cars, collectibles or signed first editions – your man cave needs a cabinet or shelving system for your prized possessions to adorn.
Sight and Sound
Whether it's the grand final of your favourite sporting event or the new gory movie the ladies didn't want to see, bring it to life with the biggest TV you can afford, with a sound system to match! Depending on space and décor, think about creating a one-off, custom made cabinet or, if space is limited fix it to the wall.
Enjoy and Recharge. Don't Hide.
Invite others into your cave.  Invite them often.  This is a space to enjoy the things you like and you can have fun showing them off to your friends, family, and partner.
Whether you want to create a man cave for yourself, or you're doing it for your husband or partner, give your local Hire A Hubby a call for advice and an obligation free quote on the best way to go about it. Call 1800 803 339 or visit the website to book a free quote.