If you're expecting a new bundle of joy in the near future and are about to design a nursery fit for your little Prince or Princess, take a look at our tips and picks below for a baby's room that'll be the envy of the neighbourhood. After consulting a number of books, blogs, interior designers and Mothers we settled on the following:
WHERE TO START 
Before you even lift a paintbrush, create yourself a mood board with all the designs, colours, textures and furniture that you like. You can even go one step further and create a few and then pick your favourite theme. Pinterest is a really great tool for nursery research, you can create a board and pin all the elements you like or like Shoes Off Please.com, you can put all your ideas onto one sheet: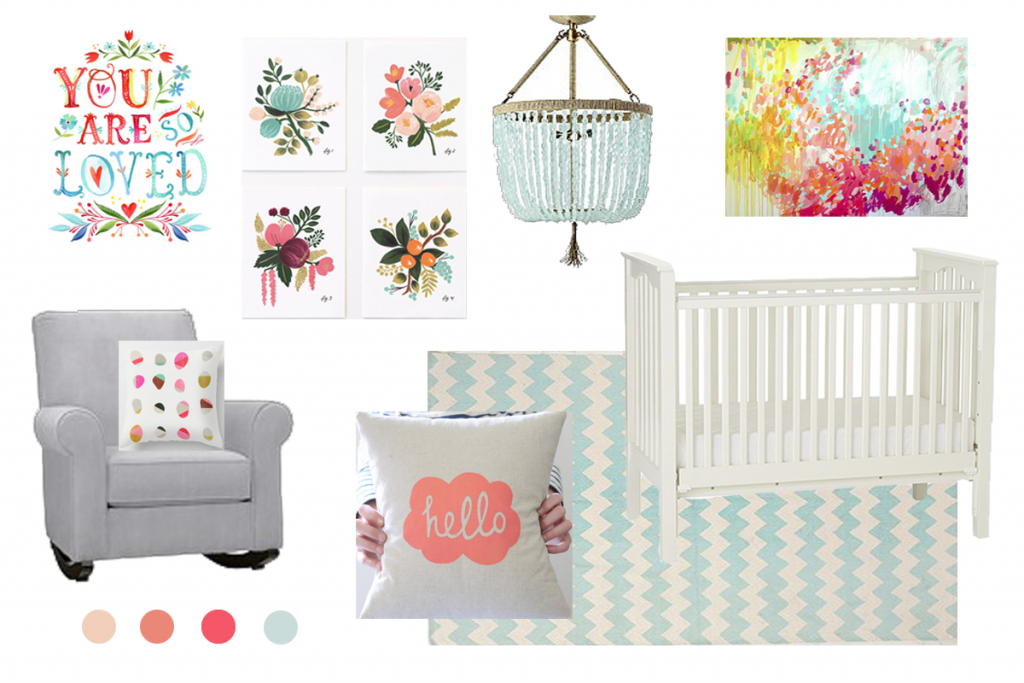 CHOOSE A THEME
Now most nursery themes start from one of three factors: girl, boy or gender neutral. From here you can choose a theme on colour or furniture or characters. Try to keep it simple and avoid the stress that comes with over complicating your design picks. Looking at some of the common themes out there, we found that these were the ones that popped up the most:
Rustic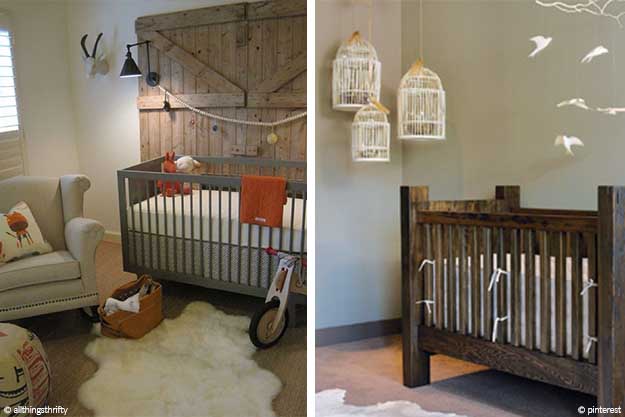 Pastels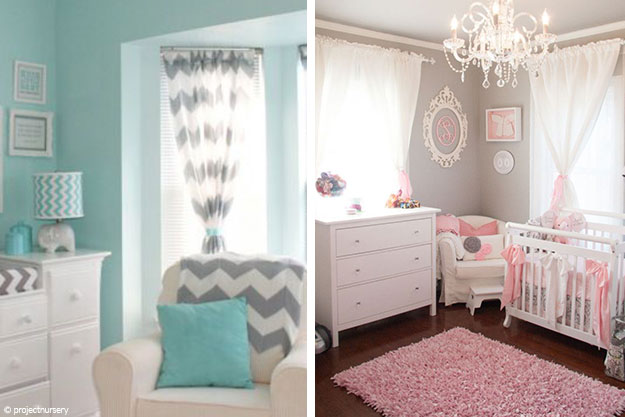 Neutral Tones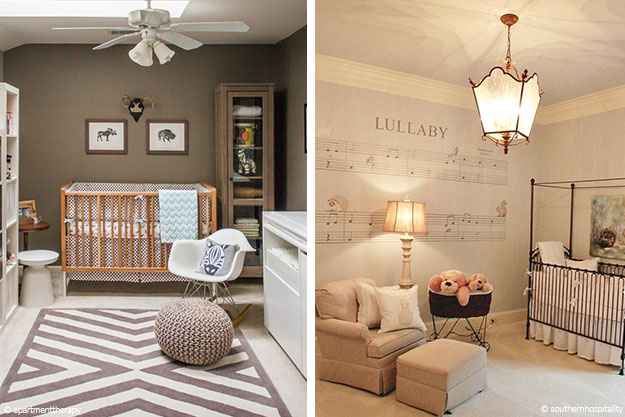 TV & Movie Inspired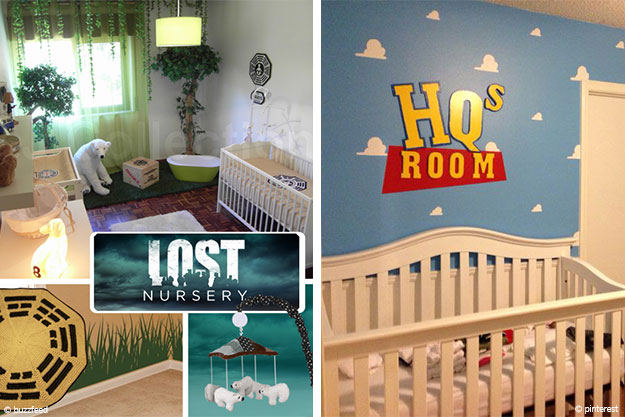 Bright Colours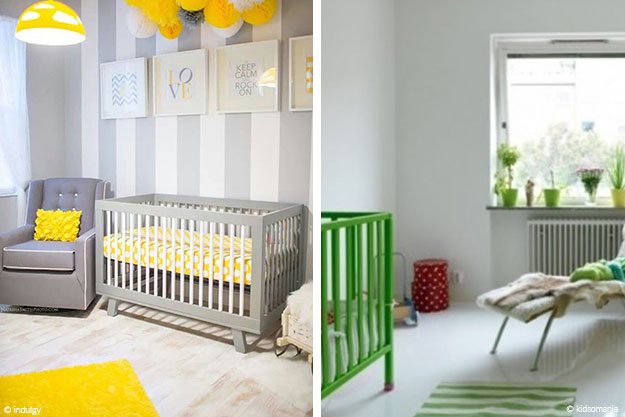 FOCAL POINT
Once you have your theme all set, choose a focal point for your nursery – be it a feature wall or a specific piece of furniture. This is all part of the planning process, don't start decorating until you have all the pieces of the puzzle together. We're a big fan of the bright accent feature wall however keep in mind that babies are better surrounded by calm. If you're feeling particularly arty, why not paint your own tree of life or you can purchase a stick that'll do the job for you. Better yet, you can wallpaper all the trees you like!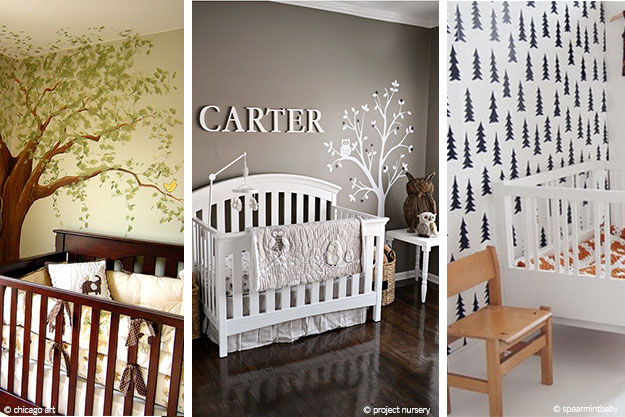 THE CEILING
Going one step past the focal point, consider decorating your nursery's ceiling – your baby spends most of its time on its back after all! There are some really gorgeous designs out there and if you're choosing to paint a design yourself, go with the non-chemical paint.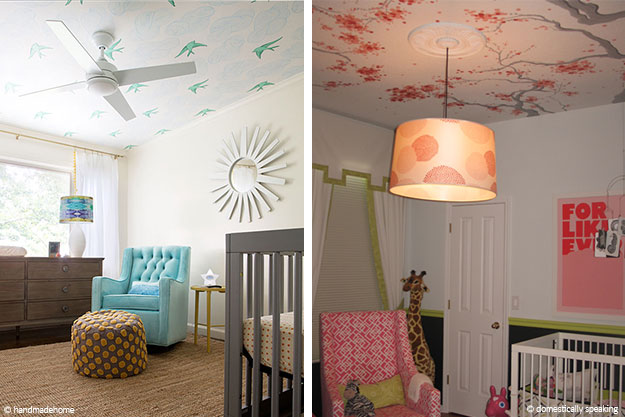 FURNITURE 
Once your design is all finished, it's time to put in the furniture. It's important not to overcrowd the room with all sorts of items – space is soothing! Typical furnishings that you'll want to consider for a newborn nursery are: a crib/cot and mattress, a bassinet, a glider/rocking chair, a changing table, a dresser and the smaller items like a baby monitor, blackout blinds, a nightlight, a carbon monoxide/smoke alarm and electric plug socket covers. For the chair in your nursery, don't scrimp on this one, when you need a moment off your feet you'll be thankful you spent a bit more on the incredibly comfy one!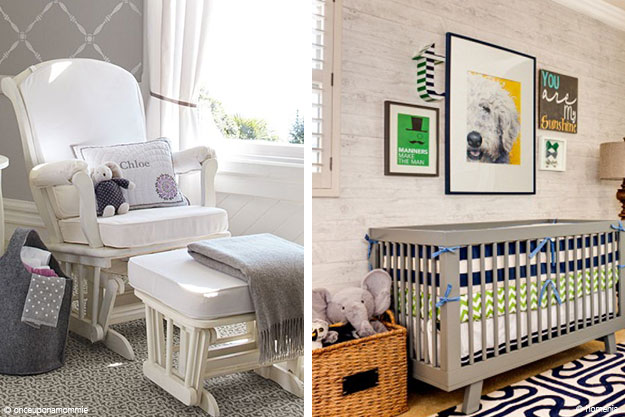 FINALLY, THINK TOWARDS THE FUTURE
It's easy to get carried away when nesting for your wonderful arrival however, with everything babies, they grow out of things very quickly. Be wary of this with everything you design! Try to leave room for a crib to expand into a bed and a design that will grow with your child. Be mindful to keep a nice balance between form and function, you'll not be loving the fact you have lots of obstacles around the room when you're up for your 3am feed!
Once you've decorated your baby's first room, remember to just stop for a moment, sit in your chair and take it all in as you start your incredible journey of parenthood! If you're looking for any assistance with the design or preparation of your nursery, speak to Hire A Hubby today to find out how we can take away the unnecessary stress and strain.