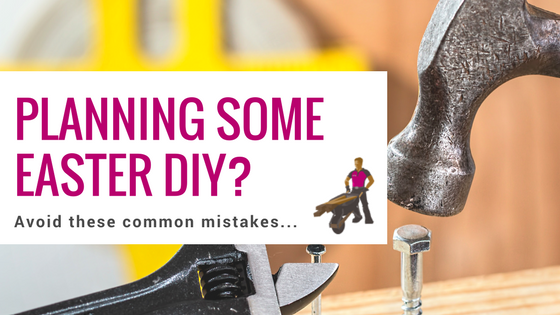 In the lead up to Easter, many Australians will see the long weekend as an opportunity to undertake some DIY around the home. Therefore, this week our Hire A Hubby handyman experts are reminding you of five of the most common home improvement mistakes to avoid.
1. UNDERESTIMATING TIME & BUDGET
Almost all home improvement budgets have a tendency to blow out once the project is underway. The best way to avoid this happening is to get as detailed as possible when budgeting and adding a safety cushion for unexpected costs on things like broken tools and extra materials. Finding the time and motivation to see a project through from start to finish is also a challenge, so be aware of the commitment of any project, large or small.
2. SMALL DOESN'T MEAN SIMPLE
Ever heard the phrase measure twice, cut once? Even seemingly easy jobs like hanging a door actually require good hand skills and if not done properly the finished product can look ugly. We've been called to rescue jobs as small as patching a hole in the wall where people have simply used the wrong product.
3. STARTING THE JOB WITHOUT THE APPROPRIATE TOOLS

Bargain bins at Bunning's Warehouse are tempting, but it's not always the best investment buying tools from these. Always research what you'll need in advance of the job and make sure you have quality tools fit for the task at hand.  There's a reason why handyman experts can do what they do in a timely and professional fashion – they have quality tools.
4. DODGY DIY
Do you need to seek council approval before starting work? If you're altering part of the structure of your house, chances are you probably need a permit. Regardless of your skill level, it's always good to consult an expert before commencing major projects just to be on the safe side.
5. DIY INJURY

The worst way to end a DIY home improvement project is with an injury. Always wear protective equipment such as goggles when using power tools; gloves when carrying wood, metal and rock; suitable footwear for all jobs and avoid loos-hanging clothing. Also try to avoid working in the middle of the day, and remain hydrated.
To speak with a handyman expert about your Easter home improvement project, give Hire A Hubby Hire a Hubby a call on 1800 803 339. Alternatively, explore our website www.hireahubby.com.au or get an obligation free quote here.