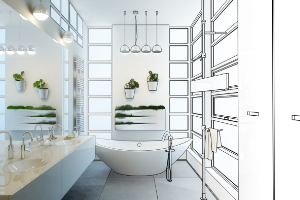 A bathroom renovation can breathe new life into your home. A beautifully designed bathroom can add more space to the room and can even increase the value of your home. Here are our top tips for getting started with your bathroom renovation.
Stick with existing elements
This will be a huge cost saver for your renovation. If you're trying to keep to a budget, try working with what you've got, rather than against it. Keeping your toilet, sink and shower positioned where they are in your space will save you a significant amount on plumbing costs.
Install a frameless shower
Fitting a walk-in frameless shower is one of the best ways to maximise space in your bathroom. Using glass walls will make your shower look like an extension of the room and create the illusion of more space. Use the same tiles as the rest of your bathroom to create a seamless and cohesive look.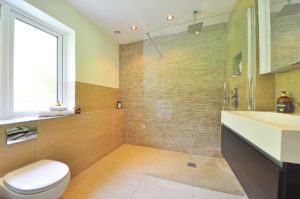 Choose energy and water efficient fixtures
You don't need to sacrifice style to have an energy and water efficient home. Many older bathrooms tend to have lighting and water fixtures that waste a lot of energy and water.  Now, there are many water-saving shower heads and faucets on the market that feel and look luxurious, yet can help you save massively on your water bills. Installing energy efficient lights is another simple way to save on your utility bills.
Prioritise ventilation
Without proper ventilation, your bathroom will become a breeding ground for mould. Make sure there is enough airflow in your bathroom by installing vents or an extractor fan. This will keep moisture at a minimum.
Build a floating vanity
A floating vanity will create the illusion of more space in your bathroom. Consider the depth of your vanity. A deeper vanity will allow for a larger sink and more bench space but may interfere with the room's functionality. If space is limited, select a shallow vanity to maximise space in your bathroom.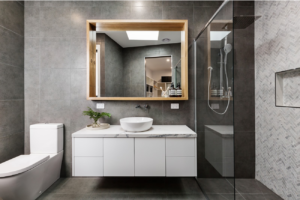 Avoid over-decorating
Try to avoid over-embellishing the space with ornate design features and decorations. Keep it simple. The simpler your bathroom design is, the larger it will feel and the easier it will be to clean. Think functionality first, and the design will fall into place.
Use mirrors strategically
Large mirrors can make any room look bigger. Consider the size and positioning of your vanity mirror to maximise space. The lighting in your bathroom can work with your mirror to make the room look lighter and larger. Strategic lighting can also help with the practicality of your vanity. The mirror will likely be used for getting ready and grooming, so consider installing inbuilt vanity lighting for functionality and flair.
A renovation can easily go awry without the right people working on the job. Our certified and licensed handymen are here to help with your dream renovation from start to finish. Contact us today.