October has come and almost gone and the countdown to Christmas has just about started. With only 8 weeks left, you may want to think ahead to any handyman work you may want doing, ahead of Christmas.
This month's blog looks at all those important jobs to consider inside and outside the home. With State borders opening and the off-chance of friends and family coming to stay, we've provided you with a list of the all-important jobs to take care of before Christmas.
Jobs for Outside the Home
Decking & Pergolas – Build, Repair, Cleaning, Oiling and Staining Services
Hire A Hubby can help build, repair, clean, oil or stain decking and pergola areas. If you haven't used your deck or pergola for a while, it may be worth giving Hire A Hubby a call. Our Hubbies will inspect your deck and pergola for any signs of wear and tear. We can clean away any build-up of dirt, mould or fungus using high-pressure cleaning. We can even oil your deck for you to protect it from water damage and resistance to mould, as well as stain it to revitalise and preserve the area and highlight the natural grain of the wood. You should always maintain your pergola and decking area by having it treated every 6 months.
Reaching out to your local Hire A Hubby and booking them is crucial in the lead up to Christmas. It's a busy time of year so don't sit on any jobs that need immediate attention.
Exterior Painting
We've all heard the saying 'first impressions', well, don't delay. Give your home a fresh coat of paint in time for Summer.
Our Hubbies offer a professional paint service that includes wall preparation, professional paint finishes and complete clean up after the job is done.
Outdoor Repairs and Tidying
From loose tiles, broken fence posts to locks and fixing gates. Our Hubbies are on stand-by and ready for your call.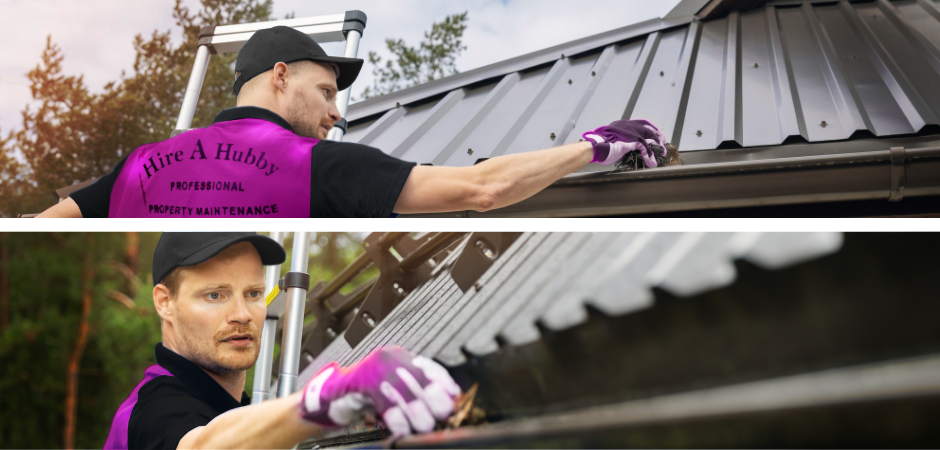 Gutter Cleaning and Roofing Checks
Your gutters should be clean all year round. The reason we say this is because, in summer, your gutters become a fire hazard with dry leaves and grubs. And in winter, your gutters could cause flooding or self-damage with the build-up of debris and water combined. It is ideal to have your gutters serviced at least twice a year.
At the same time as having your gutters cleaned, why not ask Hire A Hubby to inspect your roof. We'll check for any leaks, damages or need of replacement tiles.
Jobs for Inside the Home
Declutter – Remove any Unwanted or Unnecessary Goods
There is never a right or wrong time to declutter the home. It is just a matter of finding the time and making it happen. As Christmas approaches, we tend to accumulate plenty of new gift items including some things we probably will never get to use. Unfortunately, we don't always have the space available for these gifts and sometimes things just get thrown in the wardrobe or boxed away on a shelf to be forgotten about. The good side to decluttering now is you'll make space available come Christmas time. It also is therapeutic!
As you declutter, you may find you need additional storage, including shelves or rails fitted. Remember Hire A Hubby have carpenters available who can assist in the design, planning and construction of storage solutions for you.
Wear and Tear
Someone with grubby hands has touched your once immaculately clean walls. The door is warping and won't close properly. Chipped paint and scuff marks can be found on skirting boards, cabinets and joinery.  These are just some common examples of wear and tear – it happens all the time. Eventually, you'll get round to it, you might say and yet we tend to live with these defects by accumulating them into a long list. Sooner than later you have guests over and that list is longer than the ingredients for your Christmas dinner!
Hire A Hubby are your one-stop shop for all your home maintenance needs. We offer a full 100% workmanship guarantee and so you can rest assured that these jobs will be done to the highest quality without compromising budget or time.
Re-grout Your Bathroom
Re-grouting is a cost-effective way of rejuvenating your bathroom. It is important to re-grout your tiles as soon as you see signs of wear.
A common misconception with most bathroom leaks is that you need to contact a plumber. This isn't always the case and a lot of the time the problem can easily be resolved by applying new grouting. Always seek professional advice first.
For a free quote, call Hire A Hubby today.
Prepare the Spare Bedroom
The spare bedroom; sometimes known as the guest room, second wardrobe or children's playroom. When guests come to stay, the last thing you want to deal with is an untidy room which is occupied with all your junk.
You may want to revitalise your space and give your guests that added comfort. Perhaps give the room itself a makeover with a fresh coat of paint or even a feature wall.
Whatever you do decide, remember that Hire A Hubby are a phone call away. Hire A Hubby can help with all your repairs, builds and maintenance work including furniture assembly.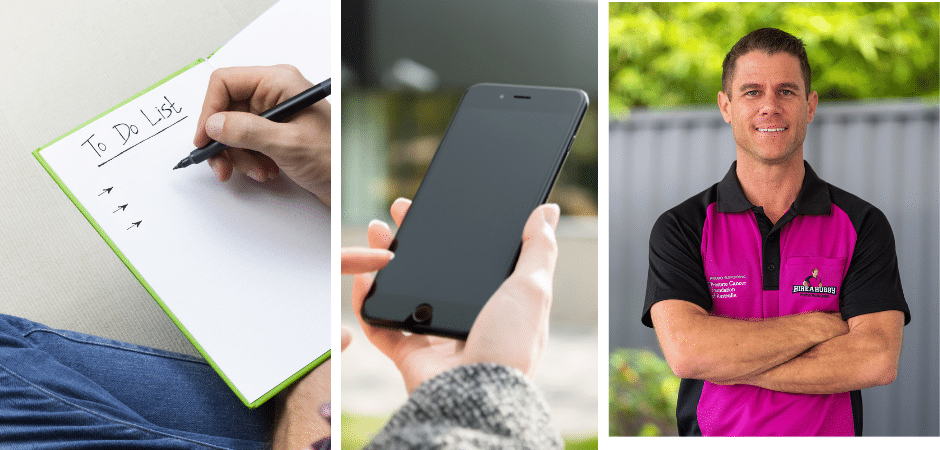 Make a List
Without making a list, those inevitable jobs that need doing around the home will soon escalate out of control. Nip this problem in the bud by creating a jobs list and then give Hire A Hubby a call. Our Hubbies are Police checked, come with 100% Workmanship Guarantee, Public Liability Insured and Licensed where applicable.
Whether it's cleaning your gutters, oiling your deck or repairing the seals and locks on your doors and windows, Hire A Hubby can ensure your home is in top shape for any season!
Call Hire A Hubby today on 1800 803 339 or get a free quote by emailing us: https://hireahubby.com.au/residential/book-a-hubby/