Here at Hire A Hubby, we are absolutely lovin' The Block:Triple Threat and our buddy Scotty Cam up there, keeping the teams motivated and inspired in all things D.I.Y. One week in and we've already seen the drilling, the dressing and the dramas! Out of the 6 bedrooms and the 5 living rooms, we took a vote in our NSW Head Office and here were the favourites: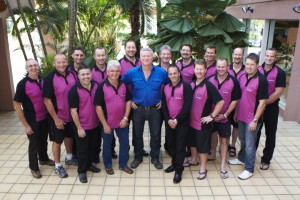 Aimee + Brooke's Living/Dining Room
"I particularly love the dining room portion of Aimee and Brooke's room. The lights bring an industrial chic feel. Definitely something you would see in Better Homes & Gardens and the likes. Can't believe they went out!" – Gina, Marketing.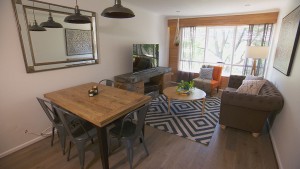 Josh + Charlotte's Living Room
"I love this room because they have kept it really pared back and uncluttered. Every element in the room compliments each other – very simple but effective." – Kerryn, Commercial.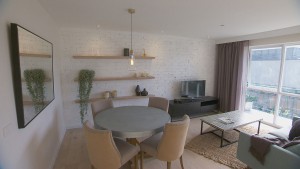 Tim + Anastasia's Living/Dining Room
"I really like Tim and Anastasia's Living/Dining Room as I'm in the process of renovating my place with those colours, I'm participating in using fresh natural environment."  – Vivienne, Reception.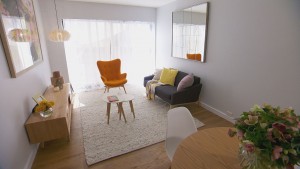 Ebony + Luke's Bedroom
"This is my fav…love the artwork, the shades of blue and I'm always a sucker for a hanging pendant light. The room is really well proportioned too." – Caragh, Marketing.
"My favourite would have to be Luke & Ebony's bedroom. The way they have positioned the bed opens the room up creating more space unlike the other bedrooms where it feels cramped and blocks off the bedroom. The blue feature wall is stunning and works well with the timber creating warmth and texture in the room. The artwork is the feature and by adding bedding and accessories which are the same colours as in the artwork ties it all together." – Katrina, Field Manageress.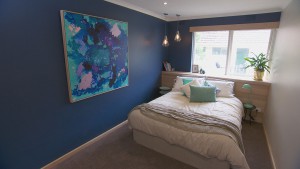 Jess + Ayden's Living/Dining Room
"Jess + Ayden's Living/Dining Room is clean, fresh and looks bright & airy… plus I like aqua :)!" – Shona, Recruitment.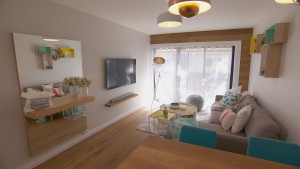 The competition is definitely tough, with such a high standard of rooms being displayed at the end of each stage. We are looking forward to seeing the completed bathrooms!
Tell us – what was your favourite room reveal so far?