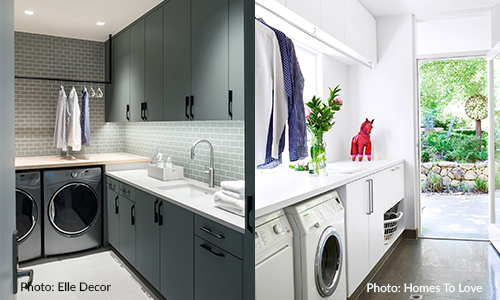 Whether you're in an apartment or house, the laundry can be one of those spaces that gets neglected. With the winter months well and truly upon us, and the clothes dryer getting a regular workout, now is the perfect time to assess your laundry and perhaps make a few changes to transform it into a space you'll love rather than loathe.
TIP 1 – SAFETY FIRST
Safety around your home is a priority. Given your clothes dryer will be your go-to appliance in wet weather, you should aim to remove the lint from the filter every time you use the dryer. It's easy to be complacent with such an easy task, but failure to clean the filter in your clothes dryer can pose a real risk of fire.
The other thing we should maintain is the floor. As a wet space, water can easily spill onto the laundry floor. Regardless of whether you have a tiled floor, floorboards, or polished concrete, your laundry floor can very quickly turn into a slippery hazard. Having that storage cupboard nearby means you'll always have a mop, bucket and cleaning cloths at the ready.
TIP 2 – DECLUTTER
If your laundry room acts as the dumping ground for dirty clothes, clothes baskets and other things that just need to be put somewhere fast, it can easily become cluttered. A chaotic space can be very overwhelming to deal with so the first thing to do is stop and observe the space.
Identify small tasks that can be tackled individually rather than trying to declutter the whole space at one time.
Give some thought as to how items can be stored and if you need to make some changes to facilitate your storage needs. Would some hooks, rails, shelving, cupboards, or baskets and hampers make life easier?
Be ruthless in throwing out things that are past their use by date.
TIP 3 – BE EFFICIENT WITH SPACE
Whether your laundry is new or a few years old, small or large, there are probably a few improvements you can make to maximise the space. Here are some ideas:
Install hooks on the inside of cupboard doors, at the end of cupboards, on the wall, or back of doors.
Install hanging rails – under overhead cupboards, between walls, or from the ceiling.
Mount a retractable clothes rod or drying rack on a wall.
Add some shelves above your bench top, between walls and benches.
Add or replace cupboards and cabinets – consider pull-out or roll-out options that are accessible from both sides.
Stack – go high – with your dryer/washing machine or cupboards and shelves.
Integrate and hide – would you like an ironing board cupboard or an ironing board drawer? Or hooks to hang your ironing board on?
Attach hanging racks/baskets on the inside of cupboard doors for small items, bottles, cartons, etc.
Provide a drip dry zone with a rack above a bench top.
Use a portable shelving station with shelves or baskets – store washing powders and sprays, pegs, cleaning cloths, etc.
Add a folding station – Install a bench top or replace your existing one to a surface suitable for wet areas (and one you'll love – stone, wood, marble, granite, etc.).
Add a miscellaneous items container (with a lid) to keep odd things in one place.
Hide the rubbish – consider installing a pull-out rubbish bin as part of your cabinetry configuration.
Integrate your laundry hampers and baskets with your shelving or cabinets.
TIP 4 – GUARD AGAINST THOSE MISSING SOCKS
If you don't have a bench top over your appliances, adding a laundry guard on top of your washing machine or dryer will prevent items from falling between appliances and the wall, never to bee seen or worn again.
TIP 5 – MINI MAKEOVER
While you're considering the little additions and improvements you can make to get the laundry you'll love, why not consider:
A fresh coat of paint.
Replacing or adding a splash back.
Retiling the floor.
Regrouting tiles.
Replacing or fixing tapware.
Replacing cupboard door handles.
Replacing cupboards, shelves, and the bench top.
Hanging some family photos or artwork.
Hanging a mirror.
Adding a skylight or replacing a window.
We hope we've given you some inspiration . If you're ready to make some changes, click here to Book a Free Quote or call 1800 803 339 and let Hire A Hubby help you create your dream laundry.