During the cooler months mould, grime, grease, or algae can build up around your home. Driveways, eaves, windows, patios and decks are hot property for winter gunk, and it only becomes more noticeable as the weather improves and you spend more and more time outside.
Unlike in years past when a hose and scrubbing brush meant cleaning the home exterior was a multiple-weekend job, pressure cleaning makes removing exterior gunk relatively simple and spring is the perfect time to do it.
High pressure cleaning combines air and water, and sometimes cleaning chemicals, to quickly blast surfaces clean. It's an effective way to clean large surface areas without using excess water and cleaning agents, and through periodic cleaning, you can prevent long-term depreciation to your home.
Here are some of our tips for spring pressure cleaning:
High and Low Pressure
Ensure you're using the right machine with the right pressure output for the surface you're cleaning. For example, washing the outside of your house only requires low pressure cleaning as it's less abrasive and won't remove paint. Likewise, timber decks can be damaged if the pressure is too high.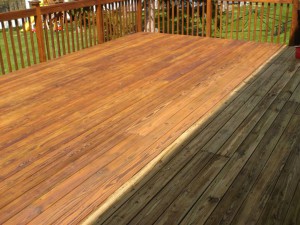 Safety First
Always wear protective equipment for property maintenance. When using any pressure cleaner – low or high – goggles and enclosed footwear should be worn and the nozzle should never be directed at any part of the body.

Call the Experts
Know your limits and consult a professional if the job is beyond your skill level. High pressure cleaning for heavy duty tasks such as cleaning concrete, the driveway or roofs should really be left to the experts. Professionals consider different attachments, pressure settings, the use of hot or cold water, and whether or not chemicals should be used.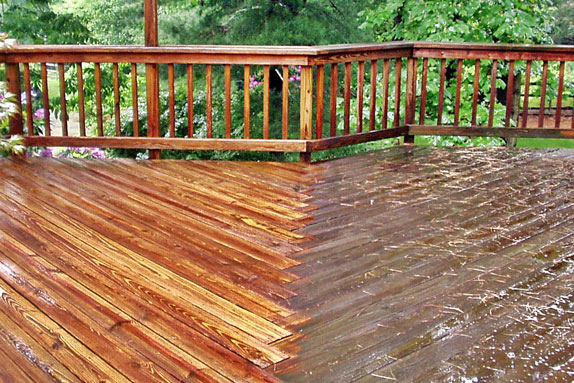 Seal of Approval
A relevant sealer such as paint or decking oil will prevent the need for regular cleaning and make cleaning next time much easier. However, ensure the surface has dried before application.
For more information on pressure cleaning an area around your home, give Hire A Hubby a call for an obligation free quote on 1800 803 339 or book a FREE quote online here.