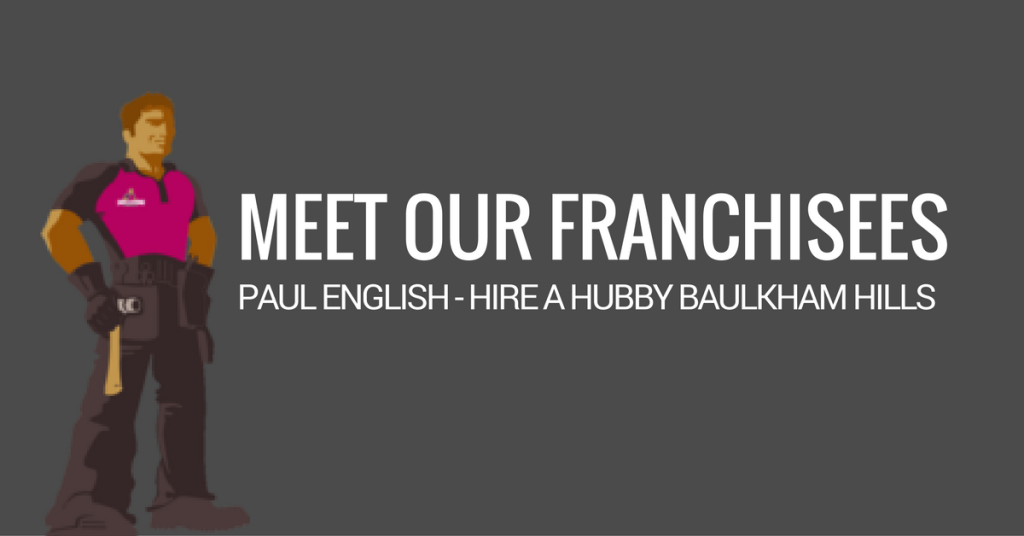 Welcome to another of our 'Meet Our Hubbies' series. Today we caught up with Paul English from Hire A Hubby Baulkham Hills in NSW who has been a Hire A Hubby Franchisee since May 2016. Hear how he's enjoying business in his first year:
What did you do before joining Hire A Hubby?
Snr Project Manager for NSW Public Works Constructing new schools & school modifications and maintenance.
What prompted your interest into Hire A Hubby?
My stepson worked as a subcontractor for 5 different Hubbies. When I dropped him off in the mornings, I would chat to the Franchisees about the work and what the business was like. All of the Franchisees were positive and complementary of the company.
How do you find the training and support from Hire A Hubby?
The training and support are exemplary; having been in the industry for years, I went to the training with an open mind. As a result I learned new ways of doing things. The support from everyone, be it Field Managers, office support or other Hubbies is incredible and the communication network between all the local Hubbies is excellent, whether for a quick chat or advice is amazing.
What's business like for you?
Growing fast. After 4 weeks I saw the need for a part time helper to fetch things from the van to increase efficiency, after 3 months I employed a full time carpenter and have another contract part time labourer whose hours are steadily increasing. I have recently contracted a part-time admin person to look after my diary and contacting the clients to book the work in. After my first 6 months business growth has been much faster than anticipated.
What kind of customers are you servicing?
I have all types of clients: I service a number of Real Estates, I have some corporate clients, and mainly home owners looking at maintaining their homes and small renovation works.
What are your business plans for the next 6-12 months?
For the next 6 months I want to maintain the growth in my territory. My current goal is to employ another tradesperson in the team and to put on an apprentice in 2017. By the end of 2017 I would like to have the steady stream of work  3 to 4 weeks ahead for all employees to leave me to quote the work and carry out the small jobs.
What's the main reason you decided to buy a Hire A Hubby franchise?
Lifestyle. To be able to decide to have a day off if I wanted it, or finish early when I wanted. I had been in a high pressure role for a number of years so I wanted a business where I had more control.